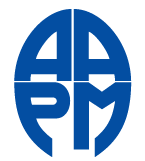 The Fall Northwest Chapter of the AAPM is hosting a one-day symposium on Friday, November 7th, 2014 at the UW Medicine, South Lake Union (SLU), Seattle, WA. The symposium is entitled "Celebrating Madam Curie's Birthday and Advances in Cancer Radiation Treatment". The lecture begins with our keynote speaker Robert D. Stewart, Ph.D., Associate Professor, University of Washington, Department of Radiation Oncology and his talk is entitled: "Radiation Response Modeling from the Molecular to Tissue" .
We are also soliciting abstracts from our membership. Those wishing to submit an abstract (250 word maximum) for consideration as a regular presentation may do so at the following link http://www.radonc.washington.edu/ available after September 16th.
Medical physics graduate students, residents, and postdoctoral fellows are encouraged to submit an abstract for consideration for our Young Investigator Session. A special panel will review all young investigator abstract submissions to choose those selected for presentation.
These presentations will be judged and ranked for awards. The total time allocated for each talk will be thirty minutes for our regular session and fifteen minutes for talks in the young investigator session. Abstract submissions are due before 5 PM PST, October 1, 2014 and should be submitted by email attachment as a PDF or Word file to rayers@nmpc.org.


Special acknowledgment:


For their generous financial support of this symposium


Registration Information for attendees and students:
Registration fees for the meeting are $50 per person and $25.00 for students, residents and postdoctoral fellows. A continental breakfast, lunch and a social event are included in the registration fee.
Continuing Education Credits:
An application for MPCEC credits has been submitted to the Commission on Accreditation of Medical Physics Education Programs, Inc. (CAMPEP).
Applications for continuing education credit hours has been submitted to the Medical Dosimetrist Certification Board (MDCB) and the American Society of Radiologic Technologists (ASRT).



CAMPEP Registration:
For those attendees and students requesting CAMPEP credits there is an additional fee of $10.00 required. All attendees registering for CME credits will be required to complete and submit program and speaker evaluations to document their attendance at the symposium.
Cancellation Policy:

Registration fees will be refunded in full if written notice of cancellation is received by Friday, October 17
th
, 2014. Please send your cancellation request to Vee White via email.
Hotel Registration Information:
Courtyard Seattle Downtown/ Lake Union Marriott Hotel
925 Westlake Ave N., Seattle, WA 98109
The Courtyard Seattle Downtown/ Lake Union Marriott will also be our host hotel for the symposium. The hotel is offering our attendees, students and exhibitors the outstanding nightly rate of $$139.00/plus tax per night for a king and $149.00 for two double beds. From Thursday, November 6th through Sunday, November 9th, 2014. To make reservations please identify yourself as being associated with the Fall 2014 NW AAPM meeting. We encourage you to make your reservations before the cutoff date of Friday, October 10, 2014. To reserve your rooms please click on the following link .Book your group rate: AAPM Meeting Room Block >>
Symposium Organizers:
George Sandison, Ph.D., FCCPM, FAAPM
Professor and Director of Clinical Medical Physics
Department of Radiation Oncology
University Cancer Center, UW Medicine
David Shepard
President, NW AAPM Chapter
Director of Medical Physics
Swedish Cancer Institute
Seattle, WA
Rex Ayers, MS, DABR, MCCPM, CHP
President Elect NW AAPM Chapter
Northwest Medical Physics Center
Seattle, WA
Miram S. Lambert, M.S., DABR
Medical Physicist
Kaiser NW Permanente
Interstate Radiation Oncology Center
Portland, OR
Carl Bergsagel
Secretary-Treasurer, NWAAPM
VA Puget Sound Health Care Systems
Seattle, WA
For additional information contact:
Velida (Vee) White
2014 NW AAPM Fall Symposium Coordinator
Department of Radiation Oncology
School of Medicine
University of Washington
1959 NE Pacific Street
Room NN146, Box 356043
Seattle, WA 98195-6043
All inquiries must be emailed to veewhite@uw.edu
The Scientific Program is forthcoming
2014 NW AAPM Fall Meeting
Friday, November 07, 2014 8:00 AM - 7:30 PM (Pacific Time)
UW Medicine, South Lake Union Campus
850 Republican St.




http://depts.washington.edu/somslu/about/




Seattle

,

Washington

98109




United States